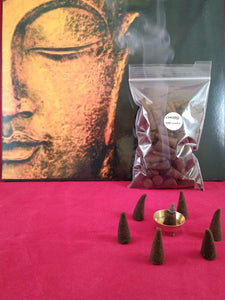 Alex incense cones are made of  charcoal and have a size of 1 inch.
Hand dipped in first quality oil .
  They burn for an approximate time of  25 minutes.
Its aroma will fill a room quickly because we only use the most concentrated oils.
These cones are designed to be burned without any burner to cover them.
Please look at the photo since that is the correct way to make this kind of cones work perfectly.
We do fresh batches with the order so allow 4 days for let the cones dry .